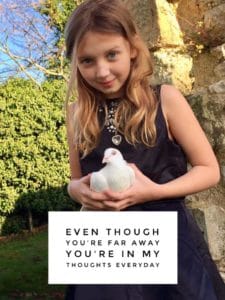 "My partner died suddenly 6 years ago and just before I released my dove something made me whisper a message for him. As the dove took flight, it felt like my message was with him and it was a very moving and powerful experience."  K.N. Worthing.
Have you lost a loved one?  Saying goodbye to a loved one is surely the hardest thing any of us has to do. Grief causes our breathing to shallow, our body language to close down; we look down and our shoulders round naturally to protect our heart, yet even this is changed in a dove release.  In a hand held release, the birds are cradled gently, close to the chest, as if in a final loving, protective act, guarding the Spirit we love. Then as arms are raised and breathing deepens, heads lift and eyes follow the joyous flight of the dove, love flies free. In that moment the gift of freedom is offered and peace is received.
No more restrained, the doves circle high above as they orientate, then together they head off on their journey home, and without a word being said their message rings clear: Life changes shape and form but love lives on.
Whether immediately after the funeral, the internment, a stone setting, memorial service or on a special anniversary, a dove release will help you to process your feelings and joyfully remember a life well lived. We understand that short notice may be inevitable and work closely with you and your funeral director to ensure the smooth co-ordination of release and the respectful accommodation of your needs.   
The cost of a release is determined by the number of doves, type of event and distance from home (they freely fly 100 miles or more but we have to pay for petrol!)  Our starting prices for a funeral release are:   
1-5 DOVES £150
5-10 DOVES £180 
Arrival: We will arrive at the given place before the end of the ceremony and be ready and waiting for you when the service is over.
Baskets: Baskets can be decorated with ribbon colour and flowers of your choice.
Staff:  Experienced and smartly dressed dove handlers will be by your side throughout to take you through the release and hand you the doves.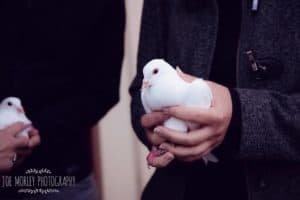 Releasing: Our doves can be released by hand (allowing family members to release individual doves with a personal thought of farewell), or straight from the basket, either by you, a family member, or by us.
After the Release: When all the doves have disappeared over the horizon we will discretely leave. If any of the congregation have questions we will answer them with pleasure.
Area we cover:
We cover a 30 mile radius of Brighton & Hove, including Eastbourne, Lewes, Crawley, Worthing and, by arrangement further afield. We are recommended by and often release doves at Eastbourne, Worthing, Woodvale and Downs Crematorium, Brighton.
The symbolism of doves: 
Free Spirit – 1 Dove:  A single dove symbolises the release of your loved one's spirit as it rises into the sky on its peaceful flight home.
Free Spirit Reunited – 2 Doves:  The single s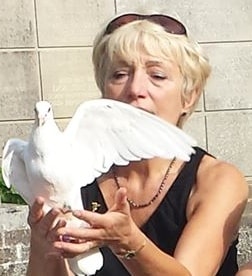 pirit dove is released followed by a companion dove, representing two souls reunited in heaven (maybe parents, grandparents or best friends).
Free Spirit and Holy Trinity – 4 Doves:  The single spirit dove is released followed by three doves representing the Father, the Son and the Holy Spirit which will guide the spirit home.
Free Spirit and Flock of Angels – 10 Doves: The single spirit dove is released followed by nine doves representing a flock of Angels that will carry the spirit to heaven.
A white dove release is a spectacular display of nature, an organic and environmentally friendly alternative to balloons or cut flowers.
When is a dove release appropriate?
Cremation – After the ceremony
Burial – At the Graveside
Alternative Funerals – Non-traditional funerals are becoming increasingly popular
Memorials: A dove release in remembrance can be conducted in any outdoor location, perhaps a place of fond memories.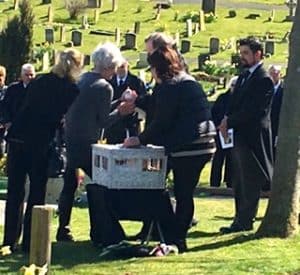 Anniversary of passing
Anniversary of Birthdays
Scattering of Ashes
When you click BOOK below, you will be taken to a calendar page where you can see our availability and choose your date, time, location and release package. We will process your request and get back to you as soon as possible to confirm your booking.