Are you looking for a very special dove release?
At a happy event such as a wedding or celebration, a dove release is magical and memorable, lifting the event to new heights. 
At a funeral, internment or anniversary of death, a dove release is poignant and powerful, renewing a connection and reminding everyone that love lives on.
Based in Hove, East Sussex, mother and daughter team, Viv and Laura, have about 40 doves who sleep each night in purpose built sheds and fly free all day. Raised by, cared for and very used to us, they are available for weddings, funerals, events and parties within a 30 mile radius of Brighton.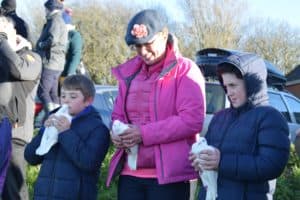 Their magic is two-fold:
First, it's magical to hold and connect with doves – for thousands of years and across cultures they have been symbols of love, peace and new beginnings.
Secondly, it's magical that no matter where we take them in their special wicker baskets, on release they fly straight back home again, often arriving before we do (their GPS works better than ours!)
Whether released by hand or straight from the basket, symbolising the union or re-union of souls, a journey home or a fresh start, a dove release can have a profound impact on those involved. It's an honour and privilege to cradle one of these beautiful birds as they trustingly await permission to fly. Connecting and sharing with them the message you want them to carry then trusting them in return to release that message with every beat of their wings, a special and unique bond is formed – one you will never forget.
Very importantly, while bringing you a very special experience, our doves add to the beauty of the East and West Sussex countryside they fly over. They don't pollute it in ways that cause damage to wild life or rivers.
Is there something you're ready to let go of now.. to see fly free?
All 'holding on' happens in our minds and entraps our hearts, yet love sets us free. It's never grasping or restraining, it's a gift that encourages us to fly. Ask anyone who's released and sent a message with one of our doves and they'll tell you how without a word being said, they take your love and, with every beat of their wings, spread it far and wide. Bonds broken, your heart flies open. It's the best gift you can give yourself – or someone you love.
"I was initially quite nervous about holding the dove but Viv talked me through what to do and by the time I had released it I had an overwhelming sense of peace. It really is one of the mo st amazing things I have ever done, and after a really difficult year, I felt that I had let go of past troubles. I can highly recommend that you give it a go. Thanks for the experience. It's one I'll never forget " LG, Hove