Lambert's White Dove Release and Sussex Doves are now one company and bring you over two decades of experience in raising, caring for and delivering white doves for release at a wide range of events, including weddings, funerals, memorials, community and charitable events.
Lambert's White Dove Release was started in London almost 10 years ago by Clive Lambert, Viv's cousin. In 2014 following the death of her mother and the release of 2 of Clive's doves at her funeral, Viv Lambert and her daughter, Laura, fell in love with these beautiful birds and the joy and comfort releasing them brought. As a result, after having two purpose built dove sheds constructed in their respective gardens, they bought some babies down from the London flock and, under Clive's expert guidance, started LWDR-Brighton.
After this website, Laura is likely to be your first point of contact. She organises the bookings and will ensure your dove release is exactly as you want. Then, with doves safely in a wicker basket decorated with flowers and ribbons in accordance with your theme, she and Viv will attend your event and set up either for a basket release or to show guests how to hold the doves for a hand release.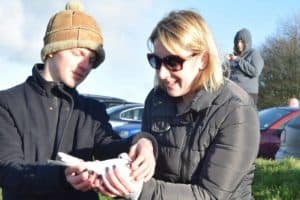 Meanwhile, Tiger Cox, the founder of Sussex Doves, will be concentrating on background IT support and sharing his love for doves through care and education programmes he is developing.