Throughout th

e world white doves are recognised as symbols of love, peace and harmony, so what could be more special than releasing white doves as part of your wedding celebration?
Weddings are wonderful, exciting, memorable days when lots of love and a huge amount of creative teamwork come together to give the bride and groom the best start possible to their married life. But because life is never straight-forward and high expectations are only achieved after hefty challenges are overcome, the run up can also be fraught with emotion. The good, the bad…. and yes, the sad. Bringing all these to a beautiful and fitting climax on her special day is every bride's dream, and that very moment is c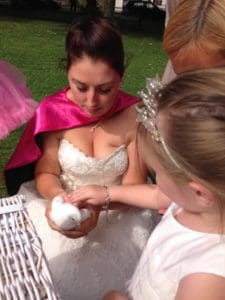 aptured in memory and photo in a dove release.
On your special day:  We can supply from 2 to 20 doves for release at your wedding; after the service at the church or in the grounds of the hotel or registry office. Our white wicker baskets come decorated with flowers and ribbons to match the colour theme of your day, and our professional handlers will work with your photographer and guests to make sure you get the best possible photos and videos of the release
Since all wedding releases are bespoke, tailored to meet your specific needs on your special day, please call us to discuss: 07746450814
Like all brides I'd faced a number of challenges in the run up to my wedding – the usual, from what colour will all the bridesmaids agree on; to the more serious, family members getting sick and how to mark the presence of those who had passed away. They'd be in our thoughts, very much in our thoughts on the day, and somehow I wanted photographic evidence of that ……

As the doves flew, rising white and shiny against a clear blue sky – two for my husband and I, followed by three released by our bridesmaids that represented my mother and brother and my husband's father, we knew they were with us, blessing our union . It was magical and very moving …. Thank you so much for such an awesome and memorable tribute. The amazing photos and video will always be a truly beautiful reminder"  CJ, Hove